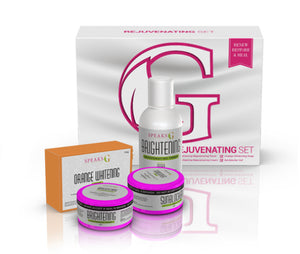 Lalas Cosmetics
SPEAKS G REJUVENATING SET
Regular price
€17,00
€0,00
Unit price
per
Tax included.
et your skin speak for itself! From the maker of best selling skin care sets, Skin Magical, Speaks G is a beauty product line that can help you achieve a whiter and ageless skin.
SPEAKS G REJUVENATING SET will help you revive your skin through micropeeling.
Speaks G Rejuvenating set will help clear and lighten pimples, acne and deep scars. It helps get rid of pimples also whitening and anti-aging. Milder of all the rejuvenating sets that you've tried proven safe and effective.
Set includes:1 Speak G Whitening Soap135g, 1 Speak G Rejuvenating Brightening Toner 60ml, 1 Speak G brightening Cream 25g, 1 Speak G Brigteibg Sunblock Cream 25g.
SAFETY: Before starting the regimen, perform the allergy spot test. Apply products onto a patch of skin on the inner, lower arm. Rub it in and allow it to dry on the skin. Do not wash that area of the skin for at least 24 hours; watch for signs of reaction. You may start the regimen if no reaction occurs within 24 hours.
. **Stinging and slight redness normally occur on initial application BUT if rash, burning, tingling, or too much redness occur, immediately remove the product from skin and discontinue all further use.
Avoid sun exposure to sunlight/spotlight while on Rejuvenating Regimen to avoid redness and unwanted reactions. Always wear sunblock and re-apply every four hours especially if staying outdoors.
RESULTS VARY ACCORDING TO A PERSON'S SKIN TYPE. EACH SKIN TYPE REACTS UNIQUELY TO ANY SKIN CARE PRODUCT.
WE DO NOT GUARANTEE RESULTS. RESULTS AND SKIN REACTIONS VARY FROM PERSON TO PERSON.

---
Share this Product
---