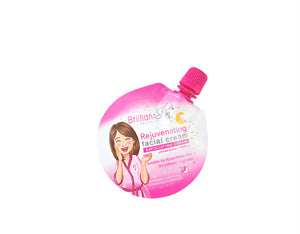 Lalas Cosmetics
BRILLIANT REJUVENATING FACIAL CREAM 13G
Regular price
€4,00
€4,00
Unit price
per
Tax included.
Brilliant Skin Rejuvenating Cream improves skin exfoliation. The main functions and features of this cream are the following:
Brilliant Skin Rejuvenating Cream Ingredients and Benefits
Water. It is essential for every living skin cell.
Cetyl Alcohol. It is derived from coconut oil. In addition, Cetyl Alcohol serves as a thickening agent and emulsifier, to help keep product ingredients from separating.
Stearyl Alcohol. It helps soften the skin. Additionally, it heals and soothes dry skin. Moreover, it thickens the product.
Propylene Glycol. It is a humectant. In other words, it helps retain the moisture in the skin. Not to mention, it is very light ingredient that never causes redness or irritation.
Glycerin. It is used as moisturizer to treat or prevent dry, rough, scaly, itchy skin and minor skin irritations.
Niacinamide. It is Vitamin B3. It reduces the appearance of skin blemishes.
Dimethicone. It has soothing and astringent properties. It creates skin barrier to retain moisture in the skin.
Witch Hazel (Hamamelis Virginiana Leaf Extract). It reduces acne and puffy skin and sunburn.
Phenoxyethanol. It prevents products spoilage. It acts as an antibacterial agent.
Citric Acid. It keeps the product fresh. Also, it can lower the acid and kill bacteria.
Cocoa (Theobroma Cacao Seed Butter). It improves skin elasticity. In addition to its hydration properties.
Fragrance. To hide the unpleasant aroma of the skincare ingredients.
CI 16035 (FD & Red 40). It is a synthetic dye.
CI 19140 (FD & C Yellow 5). A synthetic dye.
How to Use Brilliant Skin Rejuvenating Cream
Gently apply a thin layer of Brilliant Skin Rejuvenating Facial Cream evenly on your face, with an upward motion.
Use once a day, preferably before bedtime, for one month. Then, rest for another month before using it again.
Storage Condition
Store at temperature not exceeding 30°C.
---
Share this Product
---